Supporting Local Communities
We have been very blessed to have been supported by so many businesses that we truly believe in giving back by offering our skills and services to help support not-for-profit organizations.
Below highlights some of these initiatives where we have either donated our services or have provided in-kind sponsorships to assist in making these events/organizations a success.
Jammin' 4 Jay Charitable Society
eVision Media Helps Raise Awareness to Youth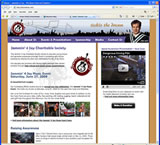 Jammin' 4 Jay is a charitable society created by a grieving father, Greg Drew, when his son died in a high-speed car accident. No drugs or alcohol were involved, just a teenager's love to drive his new car fast. This tragedy has compelled Greg to educate youth on the dangers of reckless driving and to show them how they can protect themselves by not giving in to peer pressure. Greg tours throughout BC with his powerful presentation to schools and youth groups sharing his story and his past experiences as a firefighter.

To help pay for his efforts, Greg hosts a one-day event called the Jammin' 4 Jay Concert. It is a full day of food, entertainment, music and laughter. Please visit the Jammin' 4 Jay website and support this worthy cause.
eVision Media is proud to be a sponsor of this worthy charitable society.
Langley Healthy Living Expo
eVision Media Encourages Healthy Living
The Langley Healthy Living Expo is a not-for-profit organization that is all about health. A group of health professionals got together a few years ago and wanted to make a difference in their community by organizing a "health expo". This yearly event is held every February where health vendors, speakers, and much more gather in Langley BC.
eVision Media is proud to be a Corporate Silver sponsor for the event through developing their new website in 2007, designing their fresh new logo, and offering website maintenance services year round. Visit their site and sign up to be a sponsor or join the group of vendors and display your wares!
Servers for a Cure
eVision Media Supports
Breast Cancer Fundraising Efforts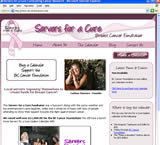 eVision Media was asked by Carlene Timmers of "Servers for a Cure" to build a small website to support her promotional efforts in fundraising for the BC Cancer Foundation. We were happy to help out and built her site in record time!

Carlene is a Vancouver server and created a 'topless' calendar with her fellow servers - but don't worry - the gals are tastefully covered up! Please visit the Servers for a Cure website to find out how you can purchase a calendar or simply send a donation through PayPal.
eVision Media is proud to have donated our services in building this website for Carlene in support of her amazing efforts.
Read a letter from Carlene to eVision Media:
To whom ever it may concern.
On behalf of Servers for a Cure I would like to Thank eVision Media for their amazing support and dedication towards the creation and web design of Severs for a Cure Website. Susan of eVision Media donated her time and cost of the website to support my cause and helped me create a voice that helped me raise money for the BC Cancer foundation.
Servers for a Cure is a non profit organization raising money for breast cancer through the BC Cancer foundation. And with the support of eVision Media, my word to end cancer would have not been possible. And the money we saved through eVision's pro bono work helped us raise just that much more.
Thank you,
Carlene Timmers
Founder Servers for a Cure
www.serversforacure.com
Previous Supporting Efforts
eVision Media is proud to have supported the following associations in recent years:
Kids In the Nest Educational Society
Valley Women's Network
Invest in a Kinder World Coin-spiracy
KindActs Network Association of BC
World Kindness Concert
The Face of Kindness World Tour
---