About eVision Media
Located in the lower mainland of British Columbia, Susan Friesen and our eVision Media team have been in the web development business for over eleven years. We comprise of an amazing group of talent including highly skilled Programmers, SEO and Marketing Specialists, Computer Technicians, as well as Copywriters and Graphic Designers that specialize in both web and print media.
I have been using eVision Media for all my website design needs since 2007. I have found working with Susan an absolute pleasure and at times a lifesaver. Susan is extremely knowledgeable and offers very expert advice for setting up, maintaining and growing my website. Her work has been so well done that I am using her to design a second website for another business. I have found eVision Media to be a 'one stop shop' with the services they offer. Not only do they build websites but they can create brochures, assist in creating newsletters and other on-line promotions, help manage my site, create professional copy and more... and it is all done in a very quick and business-like manner. I have no problems recommending eVision Media to anyone who is in need of expert advice on websites.
Stephan Baker
Photographer/Educator
Stephan Baker Photography
Our History
eVision Media first began when Susan Friesen, owner, decided to go back to school. While earning her business degree, she worked on client sites in between studying and exams. Once she graduated, eVision Media (then named Heavenly New Media) started to form a more solid stance in the web development industry and since those humble beginnings in 1999, it has grown immensely.
As the "eBusiness" in our name suggests, our service offerings can help your business establish and succeed in the rapidly growing realm of the Internet. Our services range from web development and e-commerce to eMarketing, graphic design and computer technical services.
Our Philosophy
To provide exceptional service, quality and excellence while striving for total customer satisfaction. We nurture long-term relationships through our professional, caring and motivated team members and make every effort to assist our valued clients in building their business.
Thank you for building a beautiful website for me, and for being so patient with me as I go through the growth process. You and Dan have been so easy to work with and your response time is great to my never-ending questions. Thank you for all that you do.
Janice Porter
Janice Porter and Associates
Why the Penguin?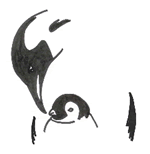 Sometimes we are asked why we used the penguin as our symbol in our logo. Well, it all started when.... Susan and Daniel went to see "March of the Penguins
" and were immediately mesmorized by the love story that was unfolding before our eyes.
These majestic creatures, the Emperor Penguin, were the symbol of qualities eVision Media stands for: Strength, Endurance, Pride, Dependability, Committment, Loyalty, Togetherness and most importantly, Nurturing. Our business is built on nurturing our clients into success and being the support system a business needs in this technical day and age. The Emperor Penguin was the perfect symbol to portray these qualities.
We asked Daniel's mom, Minette, to hand draw the image of a parent penguin nurturing its young chick snuggled close in the folds of its body. She knew exactly what we were wanting and the results are in our very first logo seen to the right. Thanks Minette!
In February of 2011, we rebranded and modernized our Emperor Penguin to the logo you see today on this site.
---